STAUF WEP 180 – SCREED RENOVATION. ALL IN ONE!
STAUF WEP 180 is a multifunctional, solvent-free 2-component epoxy resin primer on dispersion basis. It is primarily used to stabilise unstable substrates and features a significant increase in strength due to its extremely high penetration capacity into mineral mortar systems. Due to its short drying time and stabilisation of the surface, the 'rescuing' of crumbling screeds is possible quickly and easily. It is also suitable for direct bonding with almost all reactive adhesives and, after being sprinkled with STAUF QUARTZ SAND or having an intermediate primer coat of STAUF VDP 160 applied, can be filled or plastered over.

STAUF WEP 180 is available as a 3.5 kg combination container consisting of a plastic bucket with a canister in the inlay, so that both components can be mixed optimally and the primer can be applied without problems.

This makes the STAUF WEP 180 primer an economical all-rounder as well as a wide-ranging problem solver on today's construction sites.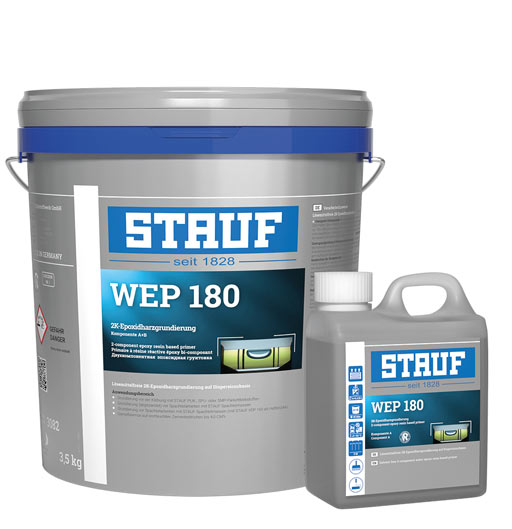 STABILISATION – 100 % penetration depth
The problem solver for unstable substrates. Its extremely high penetration of up to 100 % enables STAUF WEP 180 to considerably bolster the substrate's strength and so rescue crumbling screeds. It is ideal for application with a roller due to its viscosity. As a solvent-free, very low-emission product, STAUF WEP 180 is certified as GEV EMICODE® EC1plus.
PROTECTION – 100 % protection
Being a genuine all-rounder, STAUF WEP 180 can also be used as a dispersion-based two-component epoxy resin primer on cement screeds containing up to 4.0 CM-% residual moisture. It reliably seals pores and forms a moisture-retarding barrier (moisture barrier).
SAVES MONEY – 100 % cost-saving
STAUF WEP 180 is very fast-drying and forms a film within about 2 hours. This saves valuable time. It is also known for its very low consumption (1:1 dilution with water depending on the application) and so is particularly economical in use. It is suitable for direct bonding with almost all reactive adhesives and can be levelled quickly after sprinkling with sand. The pack size allows the two-component product to be mixed alone or diluted with water. No additional container is required.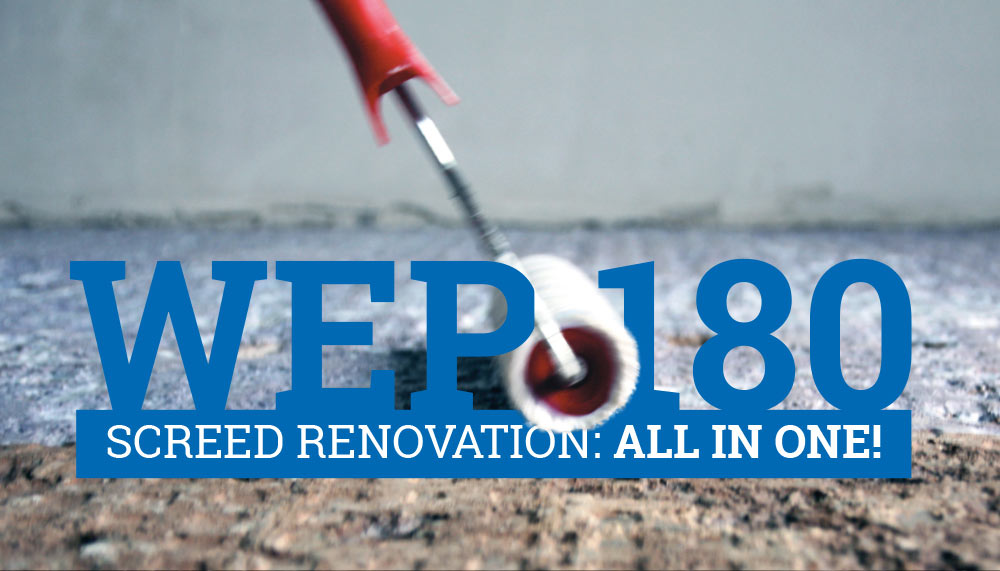 Wanna dive even more underground?
On our YouTube channel, our application technology team will show you how you can solve special challenges with STAUF products. Exciting tips and tricks from the experts included.
Now on YouTube! Substrate testing and preparation.
Creating a safe basis for the installation! Topics:
Subsoil testing, documentation and determination of readiness for covering
Restoration of crumbling screeds with STAUF WEP 180
STAUF primers and vapor barrier primers
Sticks to all channels –
Follow us at social media